10x30 wedding tent outdoor air conditioner tent clear span party event tent
| | | | | | |
| --- | --- | --- | --- | --- | --- |
| Type | Span width(m) | Bay spacing(m) | Eave height(m) | Ridge height(m) | Main frame profile (mm) |
| Z&D-6 | 6 | 3 | 2.5 | 3.5 | 48X84X3 |
| Z&D-8 | 8 | 3 | 2.5 | 3.9 | 48X84X3 |
| Z&D-10 | 10 | 3 | 2.5 | 4.3 | 48X84X3/48X100X3 |
| Z&D-12 | 12 | 5 | 3 | 5.1 | 68X122X3 |
| Z&D-15 | 15 | 5 | 3 | 5.4 | 108X150X3 |
| Z&D-18 | 18 | 5 | 4 | 6.9 | 112X203X4 |
| Z&D-20 | 20 | 5 | 4 | 7.2 | 112X203X4 |
| Z&D-25 | 25 | 5 | 4 | 8.0 | 112X203X4 |
| Z&D-30 | 30 | 5 | 4 | 8.8 | 113X259X5 |
| Z&D-40 | 40 | 5 | 4 | 10.4 | 120X300X5 |
| Z&D-50 | 50 | 5 | 5 | 13 | 128X350X5 |
Width: from 3 meters to 50 meters
Length: Unlimited, extended by 3m or 5m each bay
Eave height: standard from 2.5m, 3m, 4m, to 5m upon span width(or special height per requested)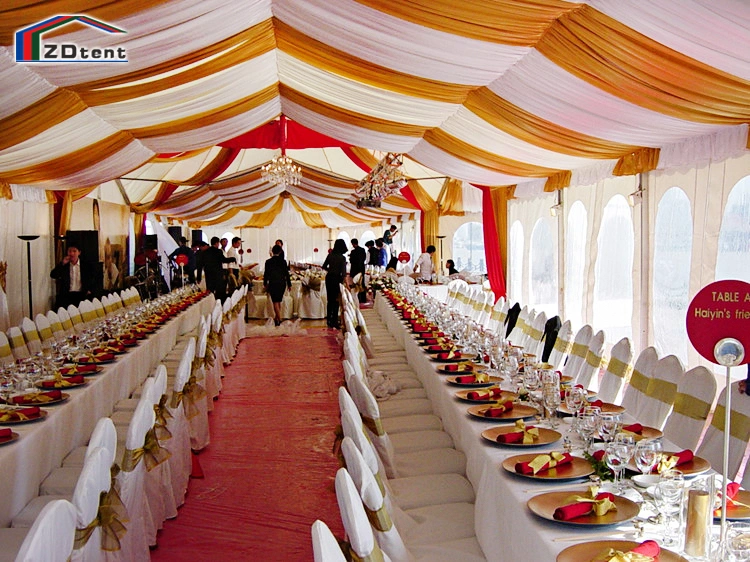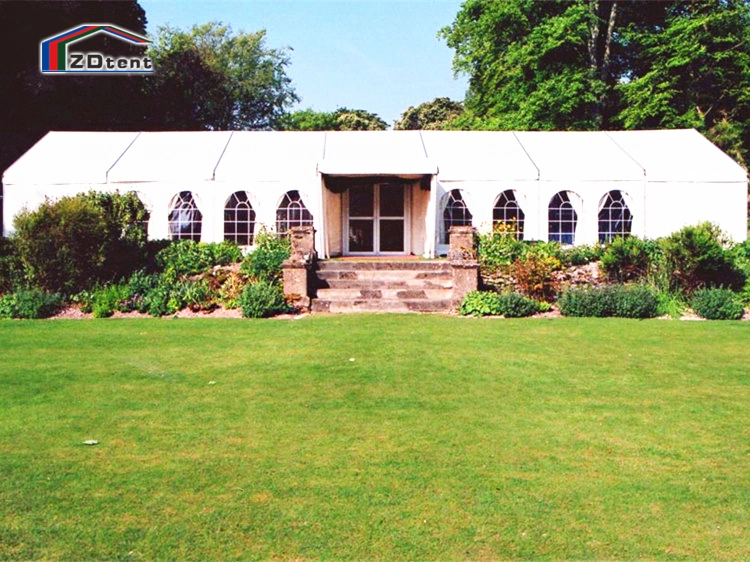 Fabric Material


1) The roof and sidewall fabric cover are made of double coated PVC.
2) Roof fabric is 850g/sqm or 750g/sqm PVC-coated polyester textile and flame retardant to DIN4102 B1,M2.
3) Sidewall fabric is 650g/sqm PVC-coated polyester textile and flame retardant to DIN4102 B1, M2.
4) Waterproof and UV resistant.
5)Connections: Hot-dip galvanized



Optional Accessories


Ground nails, weight plate, glass door, glass wall,fire door, ABS wall, sandwich wall,roof &side wall lining, flooring , clear PVC windows, etc.
Aluminum profile

1. high pressed extruded aluminum alloy 6061-T6, stainless, lightweight, durable, 48X84X3mm for 3-10m tent
2. 68x122x3mm, 88x166x3mm, 108x150x3mm,102x203x4mm for 10-20m tent
3. 113x259x4mm, 120x300x5mm for 20-40m tent
4. 120x350x6mm for 40-50m tent

Steel parts

hot-dipped galvanized steel

Top roof fabric

850g/sqm double coated pvc, block-out, waterproof , flame retardant meet M2, B1, DIN4102 standard

Side panels(optional)

(1) 650g/sqm double coated pvc, translucent, waterproof, flame retardant meet M2, B1, DIN4102 standard, or;
(2) 950g/sqm transparent pvc fabric, or;
(3) solid walls: glass panel, sandwich panels, ABS panels, color steel sheet

Allowed temperature

-20° to 70° environment

Max wind loading capacity

100km/hour

Snow loading

25kg/sqm
1. 3 years guarantee, during this period we shall provide replacement freely for the parts due to quality problems.
2. Z&D tent will provide installation manual for our customers.
3. Assemble Supervisor is available from Z&D Tent to your country.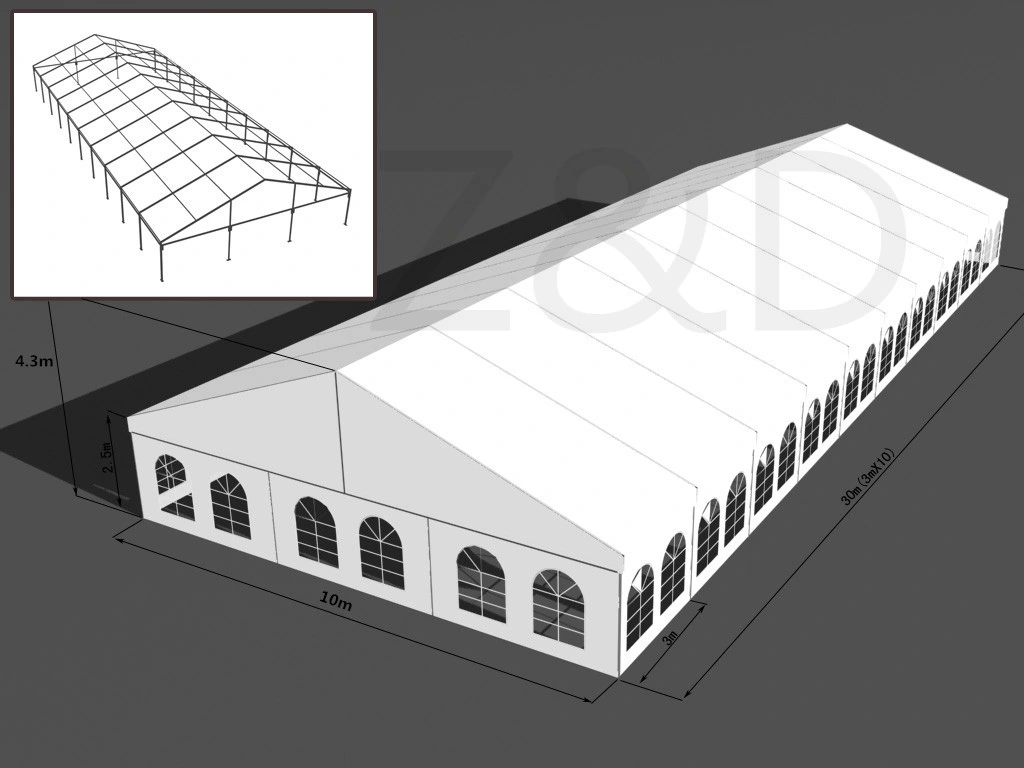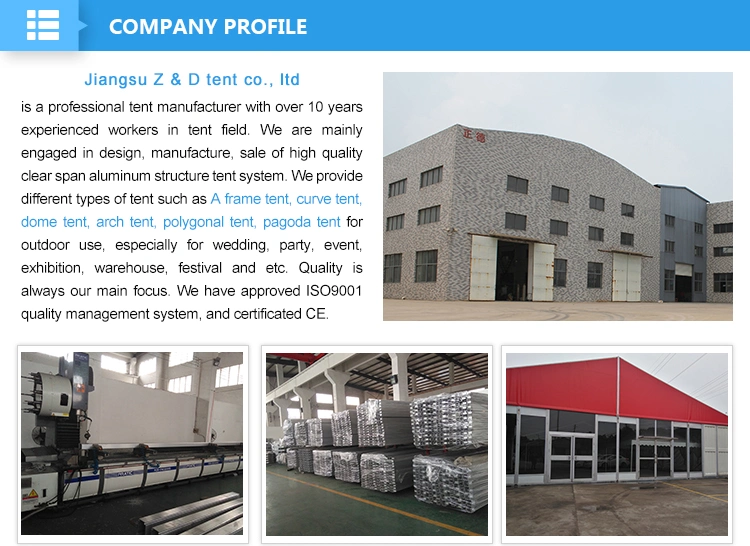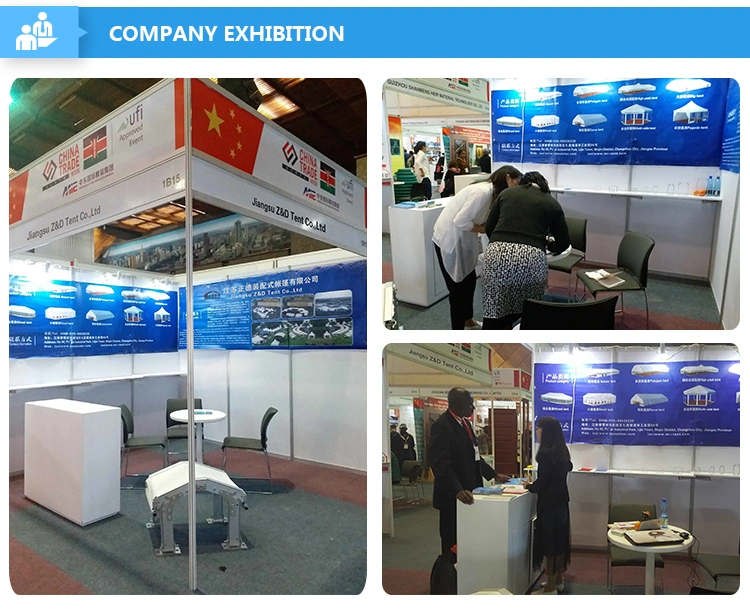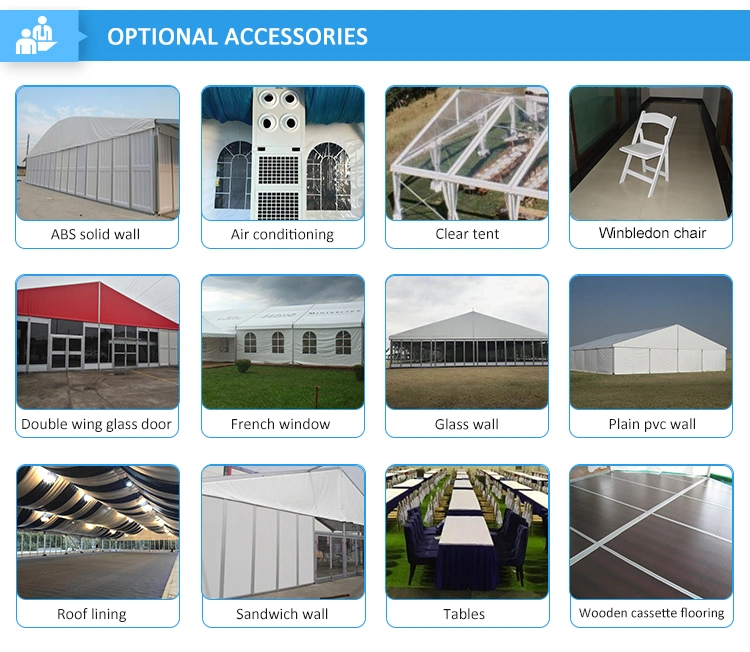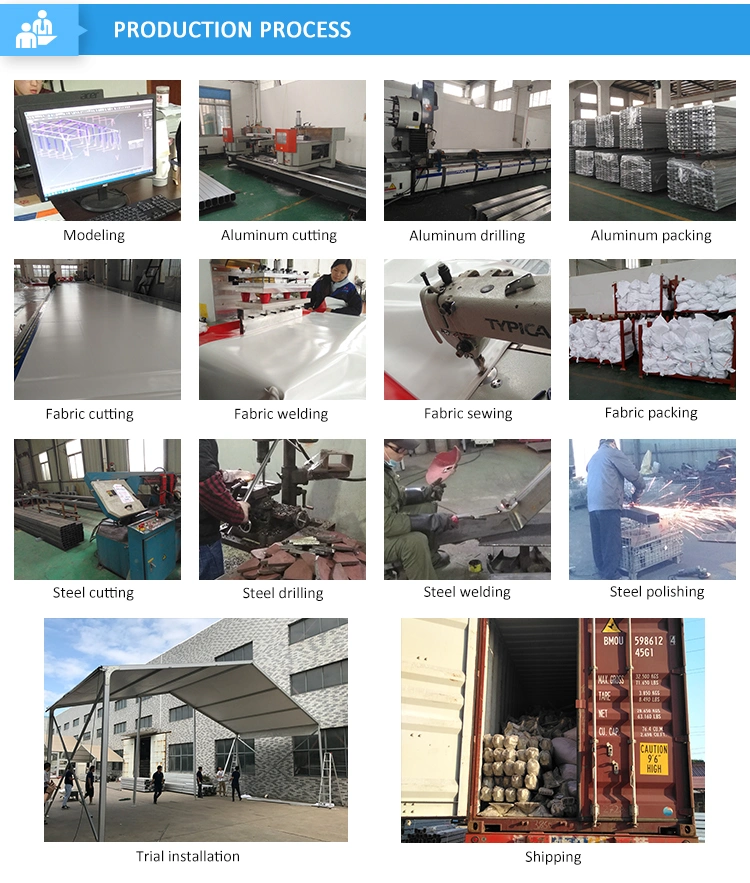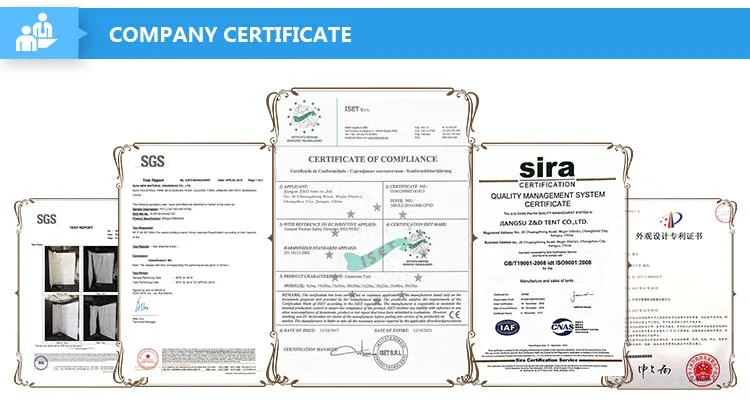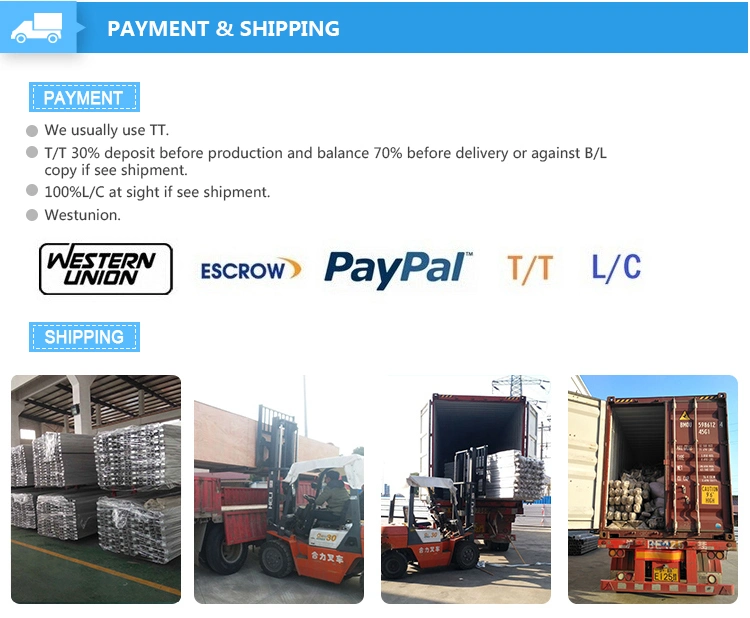 1. Are you tent factory?
Yes, we are professional tent manufacturer in Changzhou of China, close to Yiwu and Shanghai.
We assure you our prices are based on factory.
2. What is the MOQ of the tent?
One Set.
3. What size tent and what types do i need?
Tent size depends on the number of people to accommodate or the area you want to cover. In our factory, your choice can be 3 meter to 50 meter on width.
For tent types, contact us with detailed requirements. We will send you our professional solution.

4. What is the production time for standard tent?
15-20 days after deposit confirmed.
5. What's the lifespan of your clear span structure tent?
In the reasonable using, the lifespan of the aluminum alloy can last over 10 years and the PVC cover is more than 5 years.

6. Can your tent be relocated?
All our tent structures is designed into relocatable construction.
For the seasonal and regional reason, you can dismantle, store or remove the tent to other location.

7. Can I extend the tent size or replace the related accessories in the future?
Sure. All of our tent structures and accessories are modular type. You can extend the tent length by adding some extra parts.
For accessories or replacements to renew the tents, we will offer a reasonable price for our regular clients.
8. What kind of warranty do you provide?
We provide an one year guarantee. During the warranty period, we shall replace the damaged part accordingly because of any damage due to quality problem.