NITOFLON Adhesive Tapes, Heat resistant adhesive tapes,No.903UL 0.08X13X10
Product Description
Feature:
1..material:PTFE
2.size:0.08(thickness.mm)×13(wide.mm)×10(longer.m)
3.Get UL510 decided
4.In line with the health ministry notice no. 20 of environmentally friendly products.
5.Has the good model and smoothness.
6.Has good high temperature properties and dimension stability.
7.Can be like ordinary tape smoothly, paste, winding, strapping, sealing operations.
8.Using range: widely used in electrical appliances such as the electric power electronics industry manufacture.
9.The adhesive surface with electrical properties, heat resistance, weather resistance, chemical resistance, water resistance, waterproof, low friction coefficient, the adhesive properties of ethylene fluoride resin have good properties.
10.usage:(1) Used in the heat shield. (2)Used for heat seal (3)Used for heat-resistant electrical insulation
In order to know more products information, please contact Mr. Smiler Yin.
| | | |
| --- | --- | --- |
| Model | Size | Packing |
| No.903UL | 0.08X13X10 | 250 rolls/ctn |
| No.903UL | 0.08X15X10 | 250 rolls/ctn |
| No.903UL | 0.08X19X10 | 250 rolls/ctn |
| No.903UL | 0.08X25X10 | 250 rolls/ctn |
| No.903UL | 0.08X38X10 | 125 rolls/ctn |
| No.903UL | 0.08X50X10 | 125 rolls/ctn |
| No.903UL | 0.08x300x10 | 25 rolls/ctn |
| No.903UL | 0.18x19x10 | 25 rolls/ctn |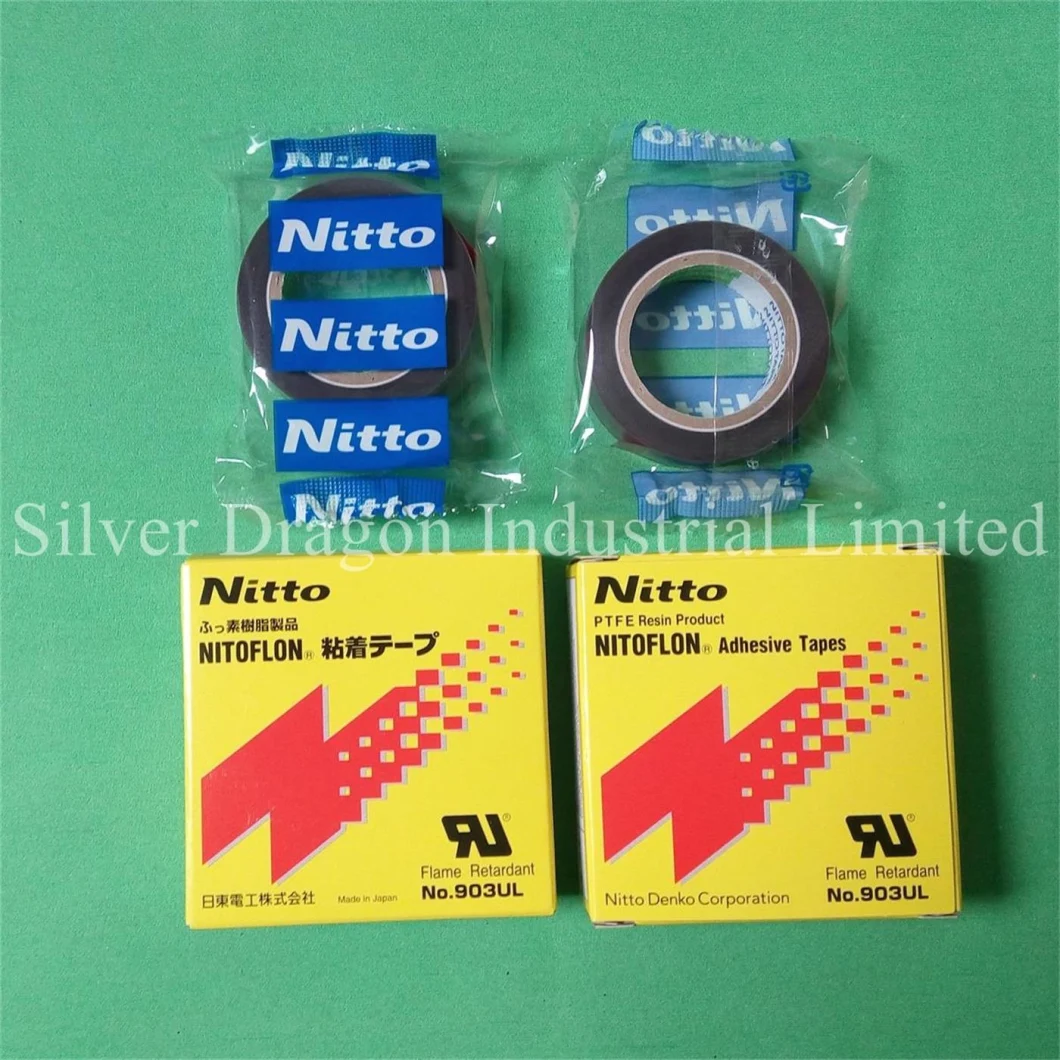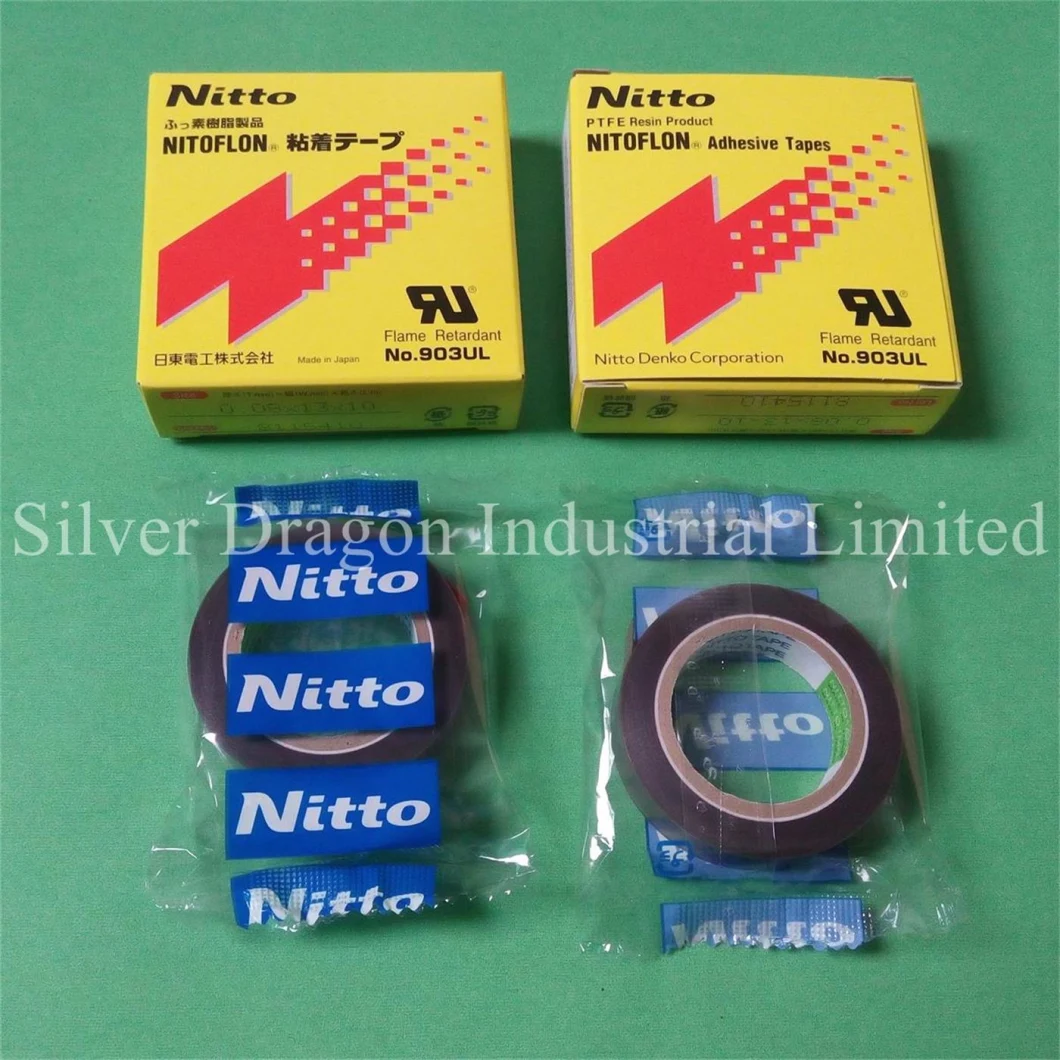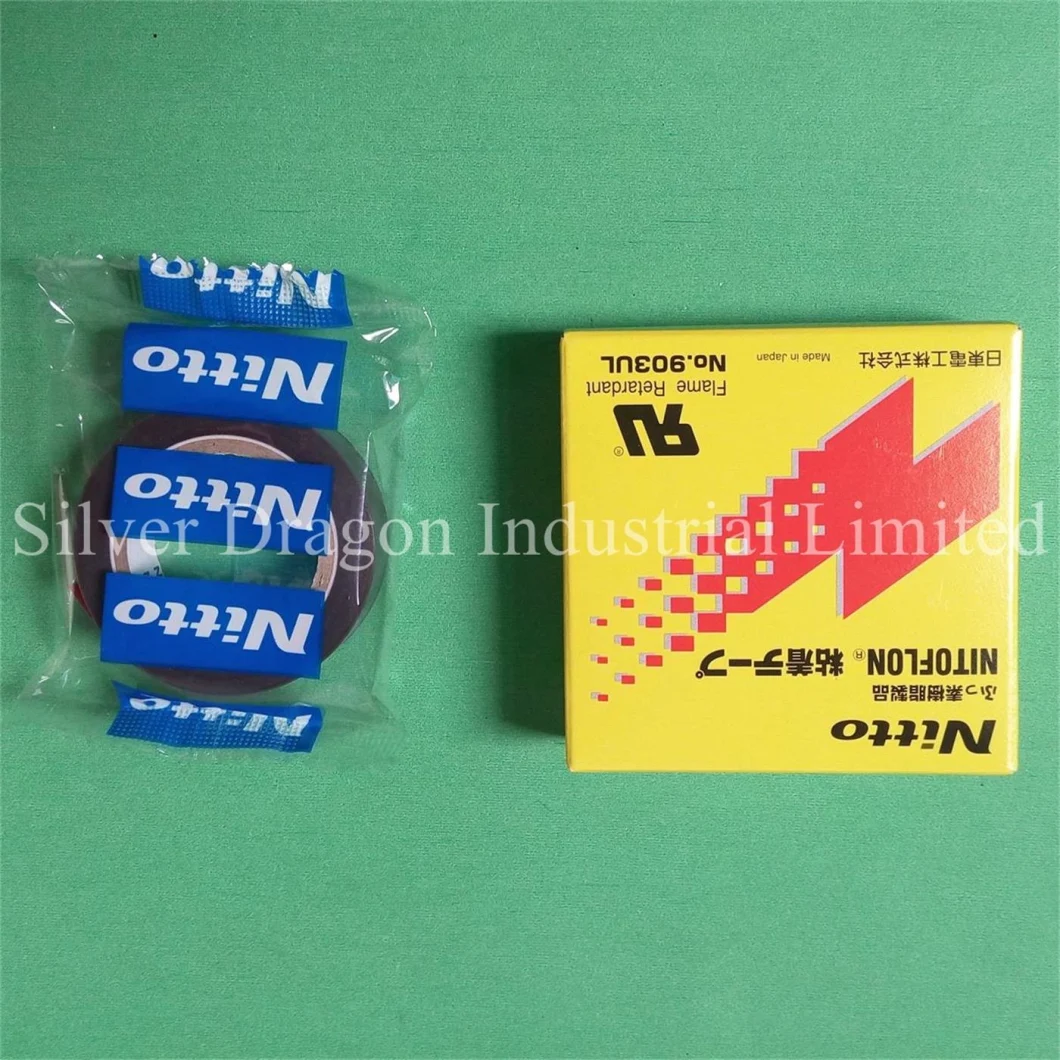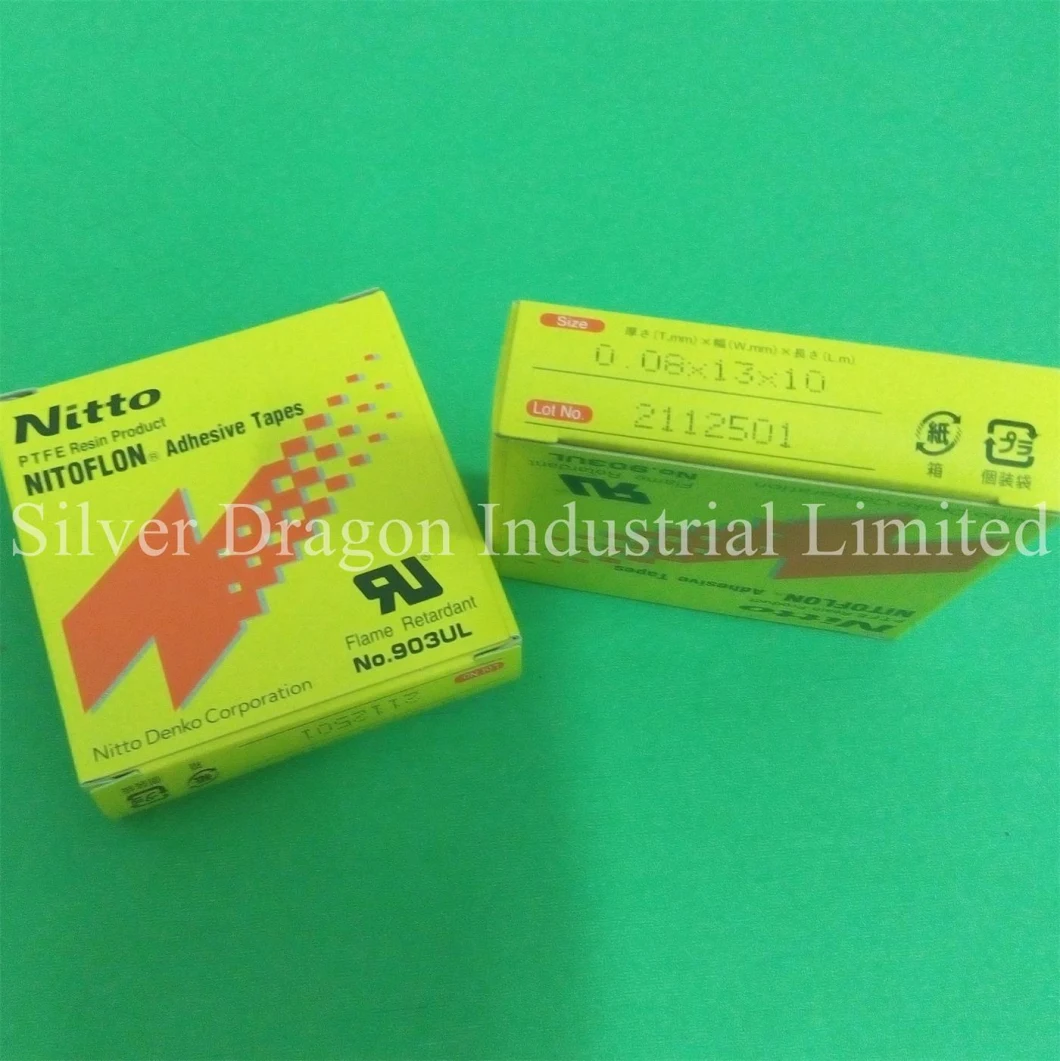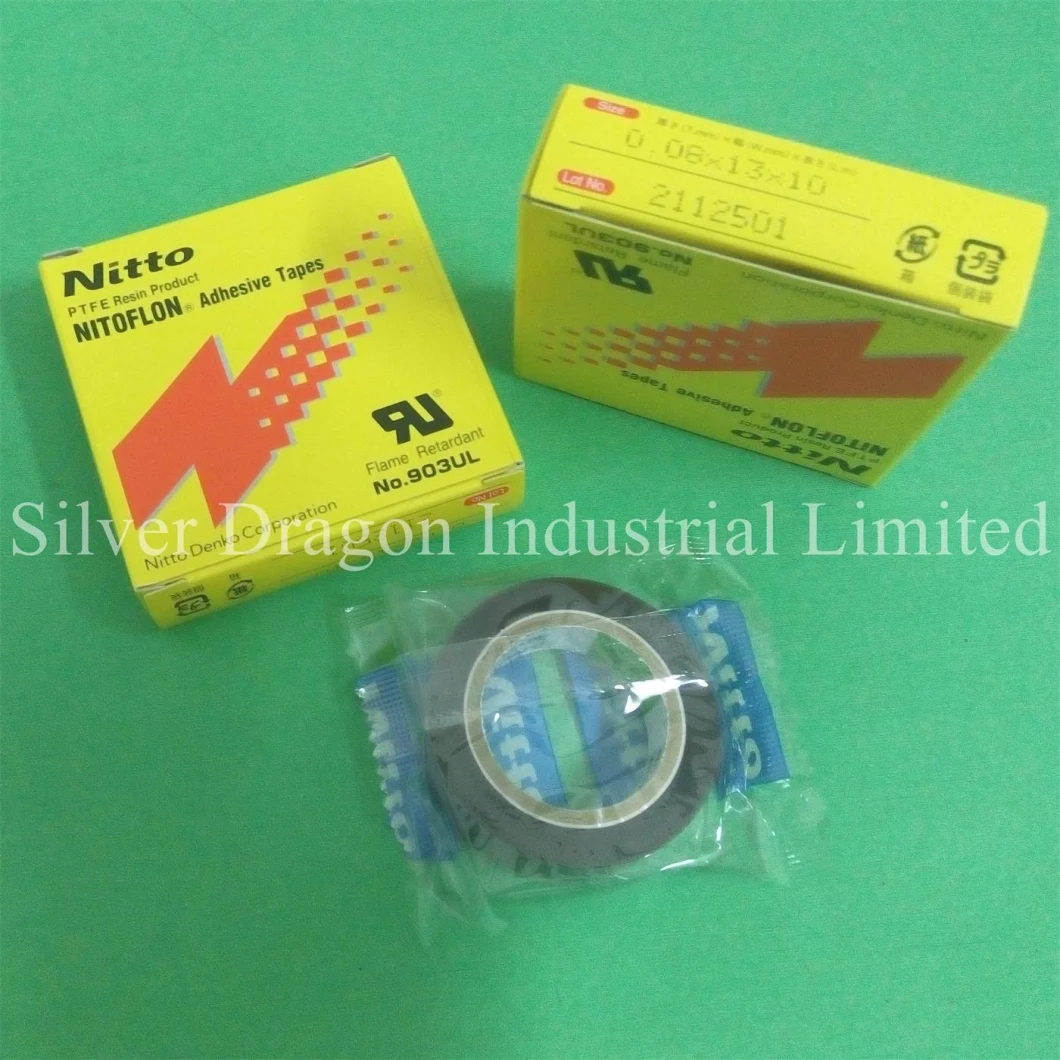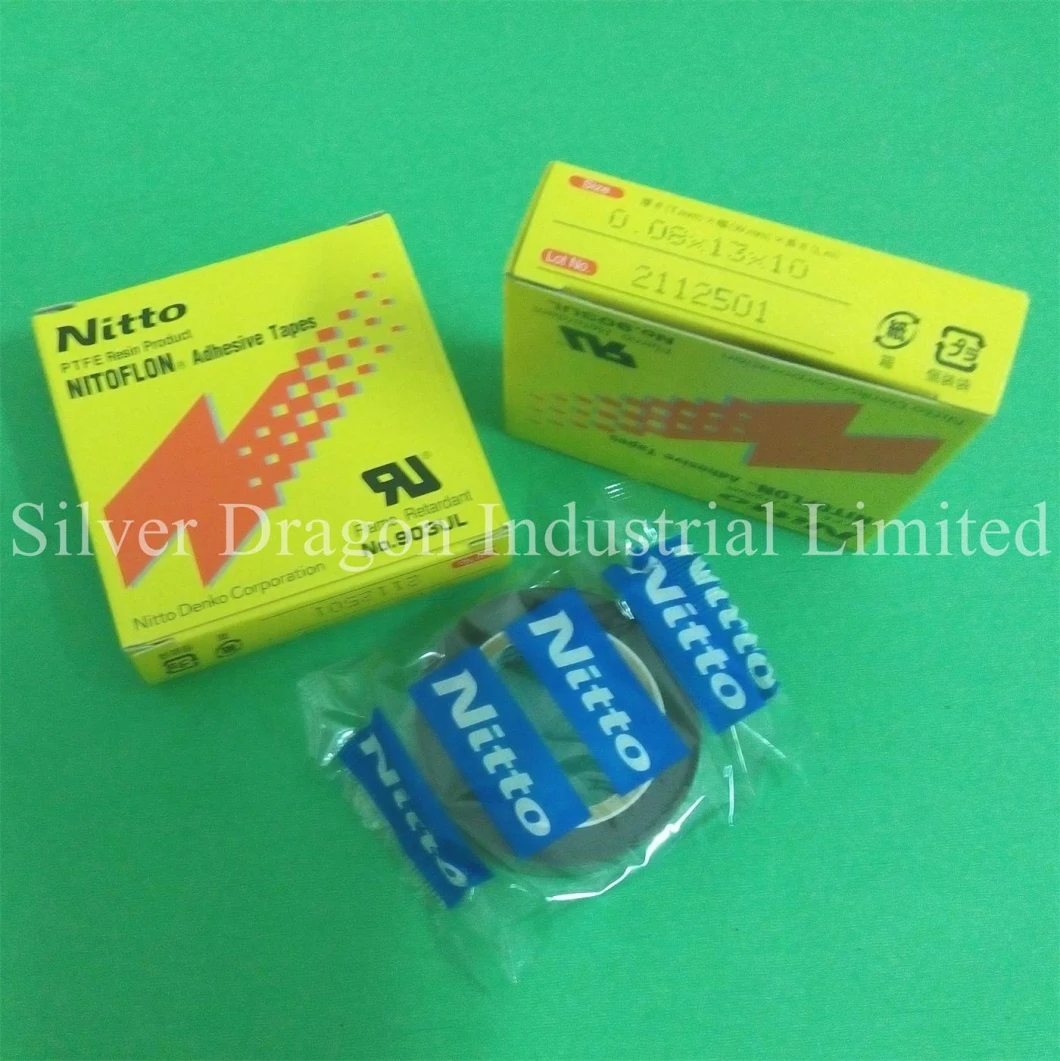 Company profile:
Silver Dragon Industrial Limited well-known as the most professional and competitive manufacturer of PVC shrink capsules, shrink labels,stickers, shrink film, plastic film, plastic bags and composite bags, grows rapidly in China and exports its goods to all-over the world. We are also the biggest supplier and exporter of PVC cling film for food wrapping. We are pround of our excellent quality and competitive price.
Silver Dragon Industrial Limited have distributed Nitoflon adhesive tape since the year of 2009 and became the largest China distributors of Nitto Adhesive Tapes at the end of 2014.
We invested in disposable gloves and aprons partner factories, Which are all have over 10 years of plastic packaging production experience. Therefore, we are pround of our high quality.
We are able to supply 1 billion shrink capsules, 10 billion shrink labels and stickers, 3000 tons of plastic bags, 1 billion composite bags, 2000 tons of pvc cling film, 1 million rolls of Nitoflon adhesive tapes and 1 billion pieces of disposable gloves and aprons monthly.